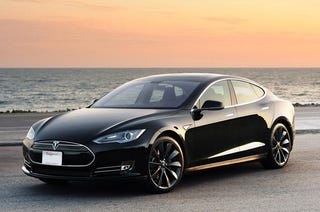 The New York Times admonished Tesla Motors Inc.'s Model S sedan in a review in February.
The review could have been disastrous for Tesla, a company on the verge of hitting its stride. Instead, it's been a blessing in disguise. The public whinefest between Tesla CEO Elon Musk and the New York Times brought more attention to the electric-car maker than any type of advertising could have. And, as CNBC's Carl Quintanilla pointed out this morning, Tesla's shares are up a whopping 76 percent since the New York Times review.
Shares Thursday are up nearly 25 percent and the stock price is quickly approaching $70.
Yes, most of Tesla's stock success is attributed to delivering more product and recording its first profitable quarter in the company's history. But the stock, which dipped initially after the New York Times review, has taken off and shows no signs of stopping.
Follow the fun: @karlhenk